Aeroplan
Best ways to earn:
Best ways to redeem:

Aeroplan Mini-RTW: Visit 3+ cities for the price of one
Business class and First Class on Star Alliance airlines
North America with stopover for 25,000 miles
Expensive flights within Canada (Atlantic provinces, Territories, etc.) for 15,000–25,000 miles

Air Canada's spun-off frequent flyer program, Aeroplan, divides opinion. Some swear by it as the most valuable points program in Canada, while others grumble of how difficult it is to redeem your miles.
Clearly there's a bit of effort required to learn how to get the most out of Aeroplan, and that's why we're here today.

Earning Aeroplan Miles
As one of the dominant Canadian rewards programs, Aeroplan makes it very easy to for members to earn miles. By far the fastest way to do so is to earn Amex MR points and transfer them to Aeroplan at a 1:1 ratio. Transfers are quick and painless, and the ease with which you can amass MR points makes earning lots of Aeroplan miles an equivalently simple task.
In addition to earning miles through the American Express cards, Aeroplan also has a few co-branded credit cards of its own. These are issued by CIBC and TD, and allow you to earn 1 mile per dollar spent on all purchases or 1.5 miles per dollar spent in certain bonus categories, depending on the card (typically gas stations and travel purchases).
TD Aeroplan Visa Infinite
25,000 Aeroplan miles for $0
Read the review
CIBC Aerogold Visa Infinite
20,000 Aeroplan miles for $0
Read the review
Besides credit cards, you can also earn Aeroplan miles by shopping at partner retailers through the e-store, taking advantage of special offers and promotions... and of course, by flying!
After all, Aeroplan used to be Air Canada's proprietary frequent flyer program before being spun-off into the loyalty and rewards landscape. You can earn Aeroplan miles on any flight operated by a Star Alliance airline according to each airline's earnings chart, which you can find here.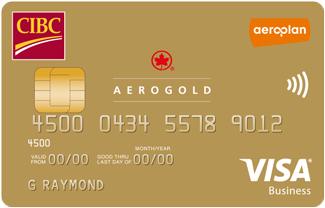 CIBC Aerogold Visa Card for Business
35,000 Aeroplan miles for $60
Read the review

Redeeming Aeroplan Miles
Once you've earned your Aeroplan miles, redeeming them is where the fun begins.
Every potential redemption begins with the Aeroplan Reward Chart, where you'll figure out how many miles are required for your desired flight. Below is a snippet from the chart, showing the round-trip mileage requirements for flights from Canada and the U.S.:
Business class and First Class flights usually offer the best value redemptions. If you look at the reward chart above, you'll see that the mileage cost of business class flights is usually 1.5x to 2x the mileage cost of Economy. Meanwhile, the same "multiplier" when looking at cash fares can be up to 4x or 5x, especially for longer, more complicated itineraries.
For First Class, the concept is the same, except the cash multiplier can be as high as 10x or 15x whilst the mileage multiplier is, at most, in the 2.5x range.
That's not to say that redemptions in economy class can never be good value. Using miles for last-minute tickets, for example, could be extremely valuable since cash fares are likely sky-high.
Or, if you want to travel somewhere close to home, redeeming for a short-haul economy class trip might make more sense than plonking all that extra mileage on a mediocre business class seat for just a few hours – especially if these economy class trips might be very expensive otherwise if booked with cash.
And some people simply don't care for luxury travel, preferring to use their miles to take more trips in coach instead – fair play to them as well.
Lastly, the true power of Aeroplan lies in the vast route network of the 28 airlines that make up the Star Alliance. Since you can use your miles on any partner, that means you can use your miles to fly to virtually anywhere in the world.

Avoiding Fuel Surcharges
Let's imagine you're trying to book a roundtrip flight from Toronto to Paris. You look at the chart above and see that it'll cost you 110,000 miles in business class, which you already have in your account. You boot up the search engine and look for flights on your desired dates...
Great, there's Air Canada flights available both ways! We get to fly the national airline and catch a direct flight back as well. Not bad, eh?
Click the "Select" buttons and you're almost set... but hold on, what's this?
$1,057.16 in taxes and fees? That can't be right, can it? Click on the "Taxes, fees, & surcharges" link to investigate...
Ouch.
Time for a brief reality check: you'll always have to pay some taxes and fees on award bookings, such as the government-imposed aviation taxes and airport improvement fees you see above. There's no way around those.
But some airlines rather nefariously tack on a "carrier-imposed surcharge" as well. In other words, you have to pay this fee just because the airline said so (a few years ago it was called a "fuel surcharge", but when oil prices tanked and everyone saw through the ruse, the airlines just slapped a new label on it). That's the $870 you see in the above example – a pure money grab.
Frankly, it's a ridiculous business practice, and it's unfortunate that some of the biggest carriers in Star Alliance, such as Air Canada and Lufthansa, charge offensively high carrier surcharges.
But all is not lost. There are quite a few very good airlines that don't levy such surcharges, such as Brussels Airlines, Swiss, SAS, Turkish Airlines, Singapore Airlines, and EVA Air. Fly on these airlines and you won't have to face the ignominy of shelling out so much cash in surcharges that you're almost better off just paying for the ticket outright.
The below airlines are notorious for levying high fuel surcharges on award tickets, so do your best to avoid them:
Air Canada

Austrian Airlines

Lufthansa
The below airlines levy some fuel surcharges, but the amounts are typically a lot more reasonable and it might make sense to pay them if there aren't any better options:
Air China

ANA

Asiana Airlines

LOT Polish Airlines

Thai Airways
Just how much difference does the carrier surcharge make? Let's look at an itinerary without fuel surcharges on Brussels Airlines, which was also available in our search results above:
Wow! If you fly with Brussels Airlines instead of Air Canada, you'll only pay $180.46 – that's $876.70 worth of savings. So if you're like me and want to minimize out-of-pocket costs, then be sure to look for flights on surcharge-free airlines!

The Aeroplan Mini-RTW
One of the most valuable ways of squeezing every drop of value out of your points is by taking advantage of Aeroplan's generous stopover rules. Aeroplan allows you to "stopover" in two cities on your way to or from your final destination, meaning that in total you're allowed to visit three cities for the price of one.
I've written an entire mini-series on this type of trip, which is known as a "Mini-Round-the-World", given how much of the world you can see.
You can also add unlimited layovers (connections of less than 24 hours) to your itinerary, meaning that you could visit five, eight, or even ten places all for the price of one. You'd only be allowed to stay for more than 24 hours in three of those, but you could in theory schedule 23-hour layovers in the rest and get an absurd amount of sightseeing under your belt.

Aeroplan Status
Besides the earning and redeeming points side of the program, Aeroplan also allows its members to earn Aeroplan Status based on how many status-eligible miles they earn in a calendar year.
Note that credit card signup bonuses and miles transferred from Membership Rewards don't count towards Aeroplan Status (or else it'd be far too easy to earn Diamond).
In my opinion, the only standout benefit to Aeroplan Status is the Contact Centre Priority that comes with Diamond status. If you've ever called Aeroplan you'll know that wait times for the contact centre can be upwards of two hours. If you have Diamond status, you get placed into a priority sequence and can typically get someone on the line in one or two minutes. That's extremely useful for making a quick change to a reservation or finding out the maximum permitted mileage for a trip you're planning.
Diamond status also comes with lower fees for changing and cancelling award tickets, which can certainly be valuable as well.
Keep in mind that Aeroplan Status is distinct and separate from status in Air Canada Altitude, which is Air Canada's frequent flyer recognition program. Having said that, if you fly on Star Alliance airlines a lot and credit your miles to Aeroplan, you'll earn status in both programs.

Tricks of the Trade
There are so many useful tips and tricks that you'll pick up once you start playing around with the program. In no particular order, here are a few select ones:
Book early: Everyone is looking for the same award space, especially in long-haul business class cabins that do not levy surcharges. You'll want to start searching for space as soon as possible to avoid disappointment.
Market fares: Besides using the fixed reward chart above, you can also redeem "market fare" awards, whose mileage requirements fluctuate based on the cash ticket prices. These represent poor value most of the time but can occasionally be cheaper than the fixed reward chart.
Hidden cities: Hidden-city ticketing works with awards too! Want a one-way award ticket to Cairo, but reluctant to pay the 82,500 miles required for North America to North Africa? Just tack on a Cairo–Istanbul segment at the end and it becomes only 57,500 miles for North America to Europe 2! The usual hidden-city ticketing cautions apply.
Schedule change: If your itinerary gets messed up as a result of an airline's schedule change, you can request to be rebooked on alternative flights, and you won't be hit with change fees or additional carrier surcharges. There's no way to plan for this, but it can be an opportune way to try out business class products that usually come with hefty surcharges, such as Austrian Airlines.
Expiring miles: Your entire Aeroplan mileage balance will expire if there's been no earning or redeeming activity for a year. Don't be fodder for the CBC newswriters – swiping your Aeroplan card when filling up your tank at Esso is an easy way to keep your account active.

From the Knowledge Base…
Q: What is the value of an Aeroplan mile?
A: The value of an Aeroplan mile depends entirely on what it's used for. Redeeming for flights in economy class can get you as high as 2 cents per point (2cpp), which is decent. Redeeming for flights in premium cabins can get you upwards of 5-10cpp, which is excellent.
Read full answer to "What is the value of an Aeroplan mile?"
Q: How do you search for flight availability with Aeroplan?
A: Searching for award availability can be a time-consuming process. The first step is to plan your routes and know which routes to be searching for, before you boot up the search engine. If you're planning a complex trip, search for your trip segment-by-segment until you locate award space on each flight, then call Aeroplan to book it with a phone agent.
Read full answer to "How do you search for flight availability with Aeroplan?"
Q: Can you book stopovers using the Aeroplan search engine?
A: If you're looking to book one stopover, you can book the ticket online using the Aeroplan search engine. If you're looking to book two stopovers (or one stopover and one open-jaw), you'll have to plot out the trip yourself and then call the Aeroplan contact centre to book.
Read full answer to "Can you book stopovers using the Aeroplan search engine?"
Q: How do you find the Aeroplan MPM?
A: By setting up a multi-city search on the Aeroplan website and accessing the JSON source code, you can find the maximum permitted mileage (MPM) for any given city pair.
Read full answer to "How do you find the Aeroplan MPM?"
Q: Can you pool miles across different Aeroplan accounts?
A: You can't pool miles across Aeroplan accounts or transfer miles without paying a fee. However, you can book tickets in anyone's name out of your account, and you can also transfer American Express Membership Rewards points to anyone's Aeroplan account – it doesn't have to be your own.
Read full answer to "Can you pool miles across different Aeroplan accounts?"
Q: Can you make changes to an Aeroplan itinerary?
A: Yes you can, but you must call in to make changes to an Aeroplan itinerary, as it can't be done online. Changes are allowed until two hours before departure or two hours until the next leg(s) of the itinerary.
Upgrading to the class of service you've already paid for is free, while all other changes are $100 per person per direction (or $75 per person per direction of Aeroplan Diamond members).
Read full answer to "Can you make changes to an Aeroplan itinerary?"
Q: Can you cancel an Aeroplan itinerary?
A: If it's 22 or more days before the date of departure, you can cancel for a full refund of the miles and taxes for a cancellation fee of $150 (or $30 if you're an Aeroplan Diamond member).
Within 22 days, you won't be able to get the miles redeposited into your account. However, you can change the ticket and rebook the trip on a date further than 22 days out, and then cancel to receive a full refund of the miles and taxes.
Read full answer to "Can you cancel an Aeroplan itinerary?"
Q: What happens if there is a schedule change on your Aeroplan itinerary?
A: Be proactive about checking your Aeroplan reservations, as Aeroplan often doesn't send notice of schedule changes. If there is a major schedule change, call Aeroplan to get rebooked, but do your own research first to look for potential solutions. The usual change fees are waived in this scenario.
Read full answer to "What happens if there is a schedule change on your Aeroplan itinerary?"
Q: What types of mileage earning activity count towards Aeroplan status?
A: The following types of activity count towards Aeroplan status: using the Aeroplan eStore, flying on a Star Alliance airline and crediting the miles towards Aeroplan, and spending on an Aeroplan co-branded credit card.
Credit card welcome bonuses and points transferred from other loyalty programs do not count.
Read full answer to "What types of mileage earning activity count towards Aeroplan status?"
Q: What are the best perks of Aeroplan status?
A: Perks of Aeroplan status include discounts on Market Fare rewards, cheaper change and cancellation fees, call centre priority for Diamond members, and the occasional status match offer such as the recent WestJet Rewards status match.
Read full answer to "What are the best perks of Aeroplan status?"

Conclusion
Over 5 million Canadians actively collect Aeroplan miles. Whether that's because the program offers outstanding value or because there's no better alternative is something each member must decide for themselves. I hope that this guide has shown you that Aeroplan is a program where you get back what you put into it. If you dedicate a little bit of effort to navigating the initial learning curve, Aeroplan will allow you to reap massive rewards.
Any questions? Contact me.