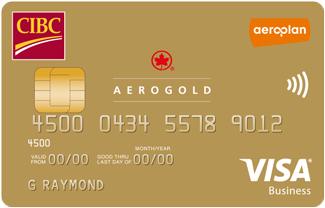 CIBC Aerogold Visa Card for Business
Best offer is available publicly
Signup bonus:

20,000 Aeroplan miles upon first purchase
15,000 Aeroplan miles upon meeting minimum spending
Total of 35,000 Aeroplan miles

Minimum spending: $3,000 in the first four months
Annual fee: $180
Earning rate:

1.5 Aeroplan miles per dollar spent on gas and travel purchases
1 Aeroplan mile per dollar spent on all other purchases

Perks & benefits: $120 Air Canada eGift card; priority check-in & boarding, free checked bag, and lounge access on Aeroplan reward tickets only
Insurance: Good

The Bonuses
You can earn a total of 35,000 Aeroplan miles by applying for the CIBC Aerogold Visa Card for Business.
You'll earn 20,000 Aeroplan miles upon first purchase, as well as a further 15,000 Aeroplan miles upon spending $3,000 in the first four statement periods.
The annual fee is $180. There are sometimes annual fee waivers available when applying in-branch or over the phone, but the last such offer ended on February 28, 2019. I'd advise waiting for such an offer to come around again before applying for the card.
Currently, you'll also receive a $120 Air Canada eGift card when applying for this card, which helps to offset the $180 annual fee somewhat. Assuming you can use the Air Canada gift card along your travels, you'll end up paying only an effective $60 in exchange for 35,000 Aeroplan miles, which is a very good deal.

Aeroplan
Redeem on 28 Star Alliance partners
In-depth guide

Rewards and Benefits
The card's earning structure is fairly standard, in that you earn 1.5 Aeroplan miles per dollar spent on travel and gas purchases, and 1 Aeroplan mile per dollar spent on all other purchases.
Needless to say, there are better options for your everyday spending – for example, the American Express Platinum Card for general purchases or the Cobalt Card for food and drink. If you're shopping at places that don't accept Amex, though, the CIBC Aerogold Visa Card for Business is a solid choice to have in your wallet, because at the very least, Aeroplan miles are easy to redeem for solid value (moreso than, say, CIBC's in-house Aventura points).
In terms of other bells and whistles, CIBC's focus as a bank these days seems to be on their Aventura program rather than on Aeroplan (it's been this way ever since they lost the big Aeroplan contract to TD back in 2014). That means that the extra perks you find on the Aventura Visa Card for Business, such as the $120 travel credit, sadly aren't available on this card.
This card does come with a few additional Aeroplan-related perks, although they're of limited value, since they can only be used on Aeroplan reward bookings on Air Canada flights. These include priority check-in and boarding and a complimentary first checked bag, as well as a one-time Maple Leaf Lounge pass.
Since these are only usable on Air Canada flights redeemed with Aeroplan, though, you'll probably only find them useful when redeeming miles for travel within North America (as redeeming miles for long-haul Air Canada flights is usually horrible value).

Insurance Coverage
The insurance benefits on the CIBC Aerogold Visa Card for Business are quite good. It has quite a comprehensive suite of other important insurances, such as:
Flight and baggage delay insurance of up to $1,000, which comes in handy if you need to replace your incidentals due to a delay

Car rental theft and damage insurance, which can replace the insurance fees that car rental companies are infamous for charging

$500,000 Common Carrier Accident insurance, which protects you in case of a travel-related accident

Trip cancellation and trip interruption insurance of up to $1,000 per insured person, which protects against unforeseen factors affecting your travel plans
It's worth noting that as far as I'm aware, the CIBC Aeroplan credit cards (i.e., this card, plus the CIBC Aerogold Visa Infinite and the Infinite Privilege) are among the few cards that will extend their travel insurance benefits to tickets redeemed with Aeroplan miles.
Many credit cards in the marketplace consider award travel to be ineligible for travel insurance – you have to put the full revenue ticket cost on the card in order for it to count. The CIBC Aeroplan cards, to my knowledge, only require you to charge the taxes and fees of your Aeroplan booking to the credit card in order for the travel insurance to kick in.
If you prefer to cover your bases using travel insurance, yet also frequently travel on points, that makes this card worthwhile to keep around.

Apply Now
The card requires a minimum personal annual income of $35,000 to apply. As I've mentioned before, applying as a sole proprietorship is fine.
There's also footnotes in this card's terms and conditions indicating that you won't be eligible for a signup bonus if you've had the card before; however, my recent experience indicates that this isn't enforced.
You can find more information on the card and apply online at the below link (not a referral link):

Any questions? Contact me.