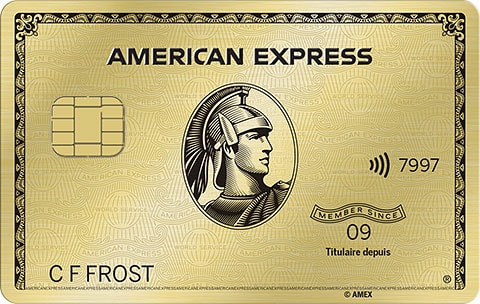 American Express Gold Rewards Card
Best offer is available via Perkopolis or CPA Canada;
Best public offer is available via Great Canadian Rebates
Signup bonus: 25,000 MR points
Minimum spending: $1,500 in the first three months
Annual fee:

$150
Offset by $150 statement credit after meeting the minimum spending (if applying via Perkopolis or CPA Canada)
Nets to $0 for the first year (if applying via Perkopolis or CPA Canada)

Earning rate:

2 MR points per dollar spent on gas, groceries, drugstores, and travel purchases
1 MR point per dollar spent on all other purchases

Referral bonus: 5,000 MR points per referral, up to 75,000 MR points per calendar year
Insurance: Good

The Bonuses
The Gold Rewards Card offers a bonus of up to 25,000 Membership Rewards points after spending at least $1,500 on the card within the first three months.
The annual fee of $150 is not waived on the public offer or via a referral link. However, if you have membership with either Perkopolis or CPA Canada, then you can apply via those offer to enjoy a $150 statement credit upon meeting the minimum spending, which effectively makes the card free for the first year.
If you aren't able to apply via those channels, then applying via Great Canadian Rebates will get you $50 cash back, giving you a net outlay of $100.
Furthermore, as a cardholder, you'll earn 5,000 MR points for every referral you make to any card in the Membership Rewards family, up to a maximum of 75,000 MR points per calendar year.
You can also add a supplementary card for free at the time of application, whereas additional supplementary cards will cost you $50 apiece.

American Express Membership Rewards
The best transferrable points currency
In-depth guide

American Express Credit Card Flowchart
The optimal Amex application strategy
Click here

Earning Rewards
Not only does the Gold Rewards Card come with a good signup bonus, it's a great card to use on a daily basis as well for earning rewards. You'll earn:
2 MR per dollar spent at gas stations, grocery stores, and drug stores in Canada

2 MR per dollar spent on travel purchases (flights, hotels, car rentals, vacations, cruises, etc.)

Earn 1 additional MR per dollar spent when booking your hotel or car rental through American Express Travel

1 MR per dollar spent everywhere else
Keep in mind that gas stations, grocery stores, and drug stores often sell gift cards for other stores that normally belong in the "everywhere else" category. You can effectively earn 2 MR per dollar spent on many purchases that normally fall into "everywhere else" by buying these gift cards and using them towards purchases that would normally earn 1 MR per dollar spent. This can be especially lucrative when purchasing big-ticket items, such as appliances, electronics, and furniture!

Insurance Coverage
Charge your travel purchases to your American Express Gold Rewards Card, and you'll automatically enjoy a wide array of coverage, such as:
Emergency medical insurance, for the first 15 days of each out-of-province trip, up to a maximum of $5,000,000 per insured person under 65

Lost, stolen, or damaged baggage insurance, up to $500 per trip

Travel accident insurance, up to $500,000, for you, your spouse, and any dependent children under 23
Additional coverage includes protection against trip interruption, car rental theft and damage, flight delay, and hotel burglary. The card also offers the Buyer's Assurance Protection Plan, which doubles the manufacturer's warranty on any item charged to the card for up to one additional year, as well as the Purchase Protection Plan, which automatically insures your purchases against accidental theft and damage.

Apply Now
The American Express Gold Rewards Card is a relatively easy card to get approved for. Amex recently abolished their minimum income requirements, meaning that anyone is eligible to apply.
If you are a member of Perkopolis or CPA Canada, then it's in your best interest to leverage those special offers to benefit from the effective annual fee waiver.
You can also follow the below link to apply via Great Canadian Rebates (GCR), who are offering $50 cash back for applying through their link. This would give you a net outlay of $100 for the first year.

Any questions? Contact me.