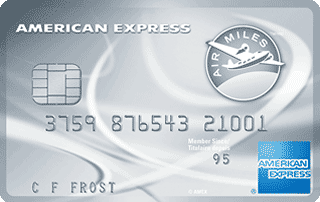 American Express Air Miles Platinum Card
Best offer available via Great Canadian Rebates
Signup bonus: 2,000 Air Miles
Minimum spending: $1,500 in the first three months
Annual fee:

$65
Offset by $50 cash back from Great Canadian Rebates
Nets to $15 for the first year

Earning rate:

1 Air Mile for every $10 spent at Air Miles partners, gas stations, grocery stores, and drugstores
1 Air Mile for every $15 spent on all other purchases

Referral bonus: 500 Air Miles per referral; up to 7,500 Air Miles per calendar year
Insurance: Poor

The Bonuses
The American Express Air Miles Platinum Card currently offers 2,000 Air Miles miles upon spending $1,500 in the first three months. The annual fee of $65 is not waived for the first year, although Great Canadian Rebates (GCR) offers a $50 rebate when applying through their site, bringing the net annual fee down to a mere $15.
That's a pretty good deal for earning 2,000 Air Miles. I generally value Air Miles at around 15 cents/mile (providing that you choose to earn Dream Rewards instead of Cash Rewards), making this offer worth $300 in my books.
You can also earn a referral bonus of 500 Air Miles for every friend or family member you refer to this card. Supplementary cards are free.
This card doesn't offer much in terms of perks beyond the standard American Express benefits, although we've seen a few Air Miles Shop the Block offers involving the co-branded cards before, and applying for this card can be an easy way to complete one of those offers.

Air Miles
Save money on economy class flights, hotels, and car rentals
In-depth guide

Rewards & Benefits
The Amex Air Miles Platinum Card allows you to earn 1 Air Mile for every $10 spent at Air Miles partners (Sobeys, Metro, Shell, Lowe's, etc.)
You'll also earn at the same rate when shopping at other grocery stores, gas stations, and drugstores. Meanwhile, all other purchases earn at a rate of 1 Air Mile for every $15 spent.
When comparing this earning rate to other cards, I'd generally prefer to earn a more valuable currency such as Amex Membership Rewards points on any of the MR-branded cards.
For example, if I were spending $10 at a grocery store, gas station, or drugstore, then I'd much prefer to earn 20 MR points on the Amex Gold Rewards Card instead of 1 Air Mile. And if I were spending $15 on non-bonused purchases, I'd prefer to earn 19 MR points on the Amex Business Platinum instead of 1 Air Mile.
It can be a good idea to use the card for purchases when there are bonus offers involved, such as during a Shop the Block or Air Miles Mega Miles event, but otherwise I'd recommend getting this card solely for the signup bonus and using other cards for your purchases.

Insurance Coverage
Unfortunately, the insurance package on the Amex Air Miles Platinum Card is pretty lacklustre. The only notable insurance would be the Car Rental Theft and Damage Insurance, which would cover any car rentals redeemed with your Air Miles, as long as the taxes and fees are charged to the card.
The card also offers $100,000 Travel Accident Insurance in case of accidental death or dismemberment, but it otherwise lacks the key insurance provisions offered by other travel cards in the market, such as emergency medical insurance and coverage for delayed flights or baggage.

Apply Now
This credit card doesn't have a minimum income requirement, so anyone can apply. The best application channel is through Great Canadian Rebates, where you can get $50 cash back upon approval. You can access the Amex Air Miles Platinum Card page on Great Canadian Rebates via the following link:

Any questions? Contact me.