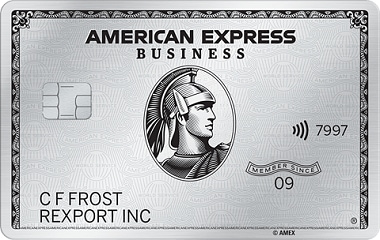 American Express Business Platinum Card
Best offer available via a referral link only
Signup bonus: 75,000 MR points
Minimum spending: $7,000 in the first three months
Annual fee: $499
Earning rate: 1.25 MR points per dollar spent all purchases
Referral bonus: 25,000 MR points per referral, up to 225,000 MR points per calendar year
Perks & benefits: Priority Pass lounge access, Hotel elite status, Fine Hotels & Resorts, Platinum Concierge
Insurance: Strong

The Bonuses
For an annual fee of $499, the American Express Business Platinum Card offers 75,000 Membership Rewards points upon spending $7,000 within the first three months if applying via a referral link.
The standard offer on the Amex website is 40,000 MR points, while applying through a referral link gives you 75,000 MR points. Both have a higher annual fee of $499, although the public offer has a lower minimum spending threshold of $5,000 in the first three months. Needless to say, if you can make the $7,000 spending, applying via a referral link is in your best interest.
You're effectively paying $499 for 75,000 MR points, which is a very good deal. For example, if you transferred the points to Aeroplan, that's enough for a round-trip economy ticket to Asia with two additional stopovers of unlimited duration. For a $499 outlay, that's unbeatable.
You can also earn 25,000 MR points for every referral you make to any card in the Membership Rewards family, up to a maximum of 225,000 MR points per calendar year.

American Express Membership Rewards
The best transferrable points currency
In-depth guide

American Express Credit Card Flowchart
The optimal Amex application strategy
Click here

Rewards & Benefits
In terms of earning points on your everyday spending, the Business Platinum Card operates the same as the personal Platinum Card. You earn 1.25 MR per dollar spent on all purchases.
As with the Platinum Card, the Business Platinum also comes with similar travel-related benefits. You can earn instant Gold elite status with Marriott's hotel loyalty program, giving you benefits such as room upgrade, free internet, and late checkout when staying at hotels.
It's worth deliberating on the lounge access benefits of the card. The Business Platinum Card grants complimentary access to Priority Pass lounges for you and one guest, as well as Plaza Premium lounges and American Express Centurion Lounges for you, your spouse, and two children under the age of 21 or one travelling companion.
The card also comes with access to American Express Fine Hotels & Resorts, benefits at Toronto Pearson Airport such as priority security lane access, and of course the handy Platinum Concierge service.
I've discussed all of these benefits in my review of the Platinum Card, so head over to that page for the details. Overall, the Business Platinum Card's travel benefits are extremely strong, and definitely contribute to justifying the $499 annual fee.

Insurance Coverage
The insurance provided by the Business Platinum Card is extremely comprehensive. In fact, I'd say that the coverage provided by the Business Platinum is the most complete out of all the Membership Rewards cards, since the card offers both top-notch travel insurance benefits and insurance geared towards small business owners.
There's the essential emergency medical insurance up to $5,000,000, travel accident insurance up to $500,000, and the usual assortment of insurance against flight delays, trip interruption, trip cancellation, car rental accidents, hotel burglaries, and lost, stolen, or damaged baggage. But there's also the Disability Plan for Small Business, which covers you as a sole proprietor for up to $10,000 in the unfortunate event of permanent, total disability as the result of an accidental injury. In terms of insurance coverage, the Business Platinum Card offers the best of both worlds.

Apply Now
There's no minimum income requirement for this card, and you don't need to be a registered small business owner to apply.
I'd be grateful if you considered applying via my referral link below to support the site in order to earn the maximum signup bonus of 75,000 MR points.

Any questions? Contact me.