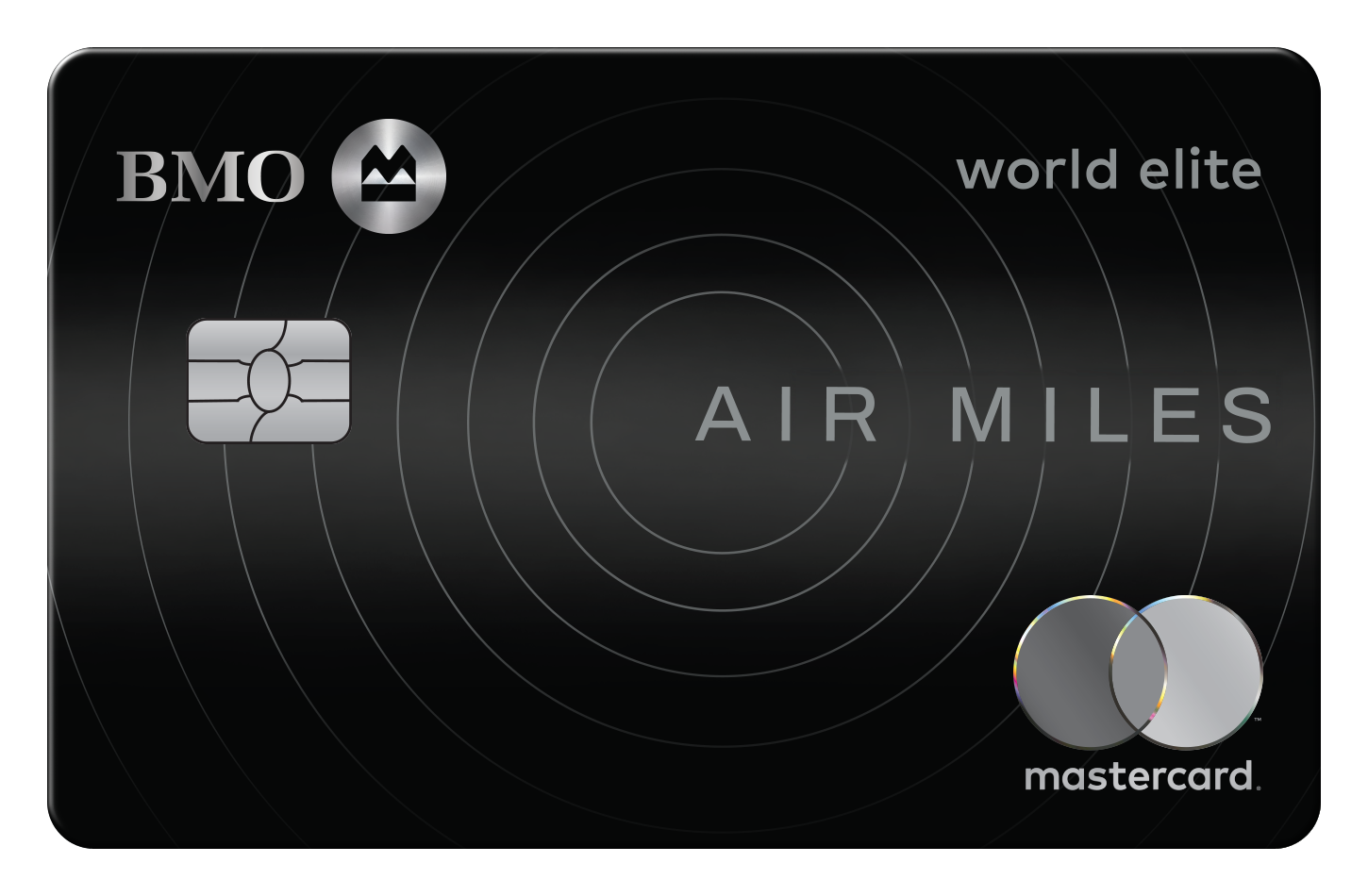 BMO Air Miles World Elite MasterCard
Best offer available via the public offer until October 31, 2019
Signup bonus:

1,000 Air Miles upon first purchase
2,000 Air Miles upon meeting minimum spending

Minimum spending: $3,000 in the first three months
Annual fee: $0 for the first year, then $120
Earning rate: 1 Air Mile for every $10 spent all other purchases
Referral bonus: 500 Air Miles per referral; up to 7,500 Air Miles per calendar year
Perks & benefits: MasterCard LoungeKey membership with two complimentary lounge passes
Insurance: Very strong

The Bonuses
Until October 31, 2019, the BMO Air Miles World Elite MasterCard offers a welcome bonus of 3,000 Air Miles in total, distributed as follows:
1,000 Air Miles with your first purchase

2,000 Air Miles upon spending $3,000 in the first three months
The annual fee, normally $120, is waived for the first year.
I generally value Air Miles at around 15 cents/mile (providing that you choose to earn Dream Rewards instead of Cash Rewards), making this offer worth $450 in my books. This is the best Air Miles signup bonus on any co-branded credit card out there, so it's definitely worth applying for this card to boost your balances if you're an Air Miles collector.
Supplementary cards on the BMO Air Miles World Elite can be added for a fee of $50 per card.

Air Miles
Save money on economy class flights, hotels, and car rentals
In-depth guide

Rewards & Benefits
The BMO Air Miles World Elite Mastercard allows you to earn 1 Air Mile per $10 spent on any purchases on the card.
When comparing this earning rate to other cards, I'd personally prefer to earn a more valuable currency such as American Express Membership Rewards points on my daily spending.
However, if you're looking to top-up your Air Miles balance to redeem them for something (such as Disney World tickets), it can make sense to put some of your spending on this card in order to earn the incremental Air Miles needed for your redemption.
Another good occasion to use the card would be during an Air Miles promotion like Shop the Block or Air Miles Mega Miles, when you might get bonus Air Miles simply for using your co-branded credit card to make purchases.
In terms of perks and benefits, this card is outstanding in many ways. First off, the card offers two annual complimentary lounge passes with MasterCard LoungeKey, which allows you to access the airport lounge and relax before your flight (either on two occasions for a solo traveller, or on one occasion for a travelling couple). Additional lounge visits will cost US$27 apiece.
The main attraction of the card, however, is the Air Miles-related benefits. You'll start off with an instant 15% discount when redeeming Air Miles for flights within North America. Short-haul flights within North America represent one of the best-value uses of Air Miles, and the 15% discount amplifies the value even more.
Furthermore, the 3,000 Air Miles you earn as part of the signup bonus will count towards Air Miles Onyx status, getting you halfway to the 6,000-mile threshold just by getting the card.
You'll also have access to additional Air Miles offers, which can be helpful during Air Miles promotions. Overall, with all these Air Miles-related benefits on offer, this is the must-have card if you're an Air Miles aficionado.

Insurance Coverage
The BMO Air Miles World Elite MasterCard offers an outstanding insurance package, including:
Emergency medical insurance for the first 15 days on out-of-province trips

Trip cancellation / interruption insurance for up to $2,500 per insured person and $5,000 per trip overall

Flight delay benefits of up to $500 per trip for reasonable expenses incurred on a flight delay of six hours or more

Car rental insurance and Collision Damage Waiver benefits, which allow you to save on the insurance fees that car rental companies usually charge
The most powerful part of the insurance, though, is that all of these benefits are valid as long as you charge the full or partial cost of the trip to your BMO Air Miles World Elite MasterCard.
This is a benefit which is unique to the BMO World Elite series of credit cards, making it an ideal card for whenever you're travelling on points (be it Air Miles or any other points program). As long as you charge the taxes and fees of your trip to the card, you're fulfilling the "partial cost" criterion and therefore eligible to receive insurance coverage on your trip.
With its comprehensive insurance coverage, the BMO Air Miles World Elite is arguably worth applying for purely for the award travel coverage alone.

Apply Now
This credit card has a minimum annual income requirement of $80,000 (individual) or a $150,000 (household). The welcome bonus offer excludes existing cardholders who cancelled their card during the offer period in order to sign up again, as well as existing BMO MasterCard customers who switch into this card. Other than that, all new cardholders should be eligible to receive the welcome bonus.
If you're interested in the BMO Air Miles World Elite MasterCard, I'd be grateful if you considered supporting Prince of Travel by applying for the card via my affiliate link below: